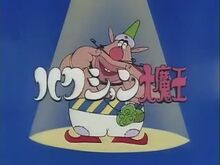 The Genie Family (ハクション大魔王; Hakushon Daimaō), initially dubbed as Bob in a Bottle and later as The Sneezing Magician, is a Japanese fantasy comedy anime television series produced by Tatsunoko Production and aired on Fuji TV. It ran from 5 October 1969 to 27 September 1970 with a total of 52 episodes. It is the first installment of The Genie Family series.
Cast
[
]
Episodes
[
]
The series has 52 episodes with each episode containing two 11-minute segments. Sometimes, there would be two segments of the episode that would make a full-length story.
Screenshot
Episode number #
Japanese Title (Top)

Bob in a Bottle Title (Bottom)

#1a
Trivia
[
]
Footage and music from Bob in a Bottle is featured in Mighty Morphin' Power Rangers, where it is said to be Bulk's favorite cartoon.